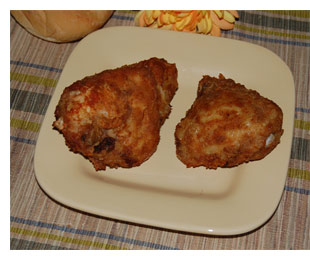 Maryland is one of the largest poultry and chicken produce states with the Perdue company headquarters located in Salisbury, MD on the eastern shore of Maryland. And so it's rightly so that chicken should be one of the widely served foods in Maryland. One of our favorite ways to serve fried chicken is (surprise) Old Bay Fried Chicken. Tasty, and easy to make, this is a classic Old Bay recipe.
2-3 pounds cut up chicken pieces
1 cup flour
1/4 cup Old Bay Seasoning
2 eggs
1 tbsp water
2 cups canola oil
In a large zip lock bag place flour and Old Bay seasoning. Mix thoroughly.
In a large bowl crack eggs and add water; mix well with a fork. Place oil in
a large frying skillet and heat on medium heat. Wash cut up chicken and pat
dry. Dip chicken in egg mixture and place in flour mixture. Toss chicken
in flour mixture. Press flour mixture into chicken to ensure chicken has a
thick coating of flour.
Test temperature of oil before placing chicken in hot oil. Take a drop of water and place it in the oil if it sizzles the oil
is the right temperature. Place chicken in hot oil skin side up. Repeat dipping and flouring remainder of chicken pieces. Sprinkle a little more Old Bay seasoning on chicken in skillet. Cook chicken for approximately 20-25 minutes before turning chicken over.
Periodically check chicken by carefully lifting a corning of chicken and making sure it is not getting too brown.
If the outside is browning to fast lower the heat a little. Turn chicken over and cook for another 10-15 minutes. Again check to make sure chicken is not browning to fast. Remove from oil and place on plate lined with paper towel. Serve Old Bay Fried Chicken hot or cold as both ways taste great.