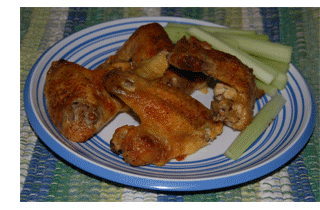 Here's one of our favorite recipes using Old Bay Seasoning — Old Bay Seasoned Chicken Wings. It's fairly easy to make, but you have to plan a head so that the wings have time to soak up the flavor in the marinade. These Chicken Wings take an hour to cook, so this is a recipe that takes about 3 hours to make from start to finish.
Ingredients
5 pounds of chicken wings
1 1/2 cups white vinegar
1 cup canola oil
2 tbsp Old Bay Seasoning
2 tsp Tabasco Sauce
To make
Wash the chicken wings thoroughly and place on a plate. Add the vinegar, canola oil, Old Bay Seasoning and Tabasco Sauce to a bowl and mix well. If you have a Waring Blender blend these items in the blender instead of by hand. Place the chicken wings in one or two ziploc bags, add the marinade, and place in refrigerator. Marinate for 2 hours, flipping the bags over every half hour.
Preheat oven to 500° F. We like to use disposable aluminum baking pans covered with non-stick aluminum foil to cook the wings for the easy clean up. You can use a regular baking pan, and cover the bottom with non-stick foil if you don't have toss out heavy duty pans on hand. Place the wings in the pan in a single layer, and bake for one hour. Cook covered with aluminum foil for the first 50 minutes. Remove foil from pan for last 10 minutes to allow wings to brown.
Serve the cooked wings with Ranch Dressing along with celery, cucumber, and carrot sticks.
Editors Note: YES, 500 degrees is correct. Use the meaty whole chicken wings (as pictured) that you get at the grocer in the large package — not the wingettes. Cover the pan for the first 50 minutes, and then remove to let wings brown. When placing wings in the pan, place them close together and do not try to drain the marinade from the wings. Take them straight from the ziploc pack and place the directly in the pan. This is an adaptation of this tried and true Buffalo Wing Recipe we've used for years.