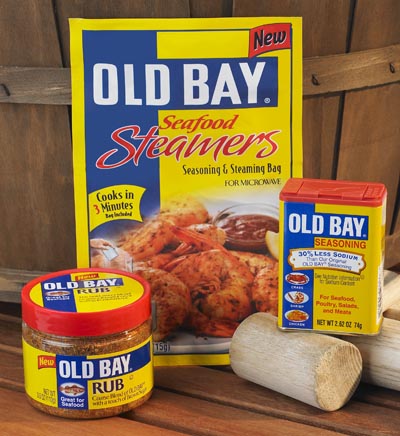 Old Bay Seasoning – Crabs, Seafood, Chicken
FOR IMMEDIATE RELEASE
THREE NEW REASONS TO REACH FOR THE OLD BAY®
HUNT VALLEY, Md. – (March 2007) – No matter how you shake it, OLD BAY® is truly the taste of summer. For years, legions of loyal fans have relied on this zesty blend of a dozen herbs and spices for seasoning shrimp, salmon, burgers, corn on the cob, and much more. Now, OLD BAY is adding three new items to give people more ways to savor their favorite seasoning. Look for them in the seafood section of grocery stores nationwide this spring.
NEW OLD BAY 30% Less Sodium Seasoning – For the first time ever, the distinctive flavor of OLD BAY is available with 30% less sodium. A less sodium variety is on-trend with people who seek more healthful choices. This versatile seasoning is ideal for all types of fish, as well as poultry, salads, meats, popcorn, and more. Suggested retail price: $1.99
NEW OLD BAY Rub – This coarse blend of OLD BAY, with a touch of brown sugar, is a perfect complement to grilled or broiled seafood. It creates a flavorful crust that seals in juices. Suggested retail price: $1.79
NEW OLD BAY Seafood Steamers – Steam and season like the pros with this great new product. Just place fresh or thawed shrimp and seasoning in the special steaming bag, shake to coat evenly and microwave 3-4 minutes. Toss the empty bag and the mess. Suggested retail price: $2.89
About Old Bay
For more than 60 years, OLD BAY seasoning has been the secret ingredient for cooks from coast to coast. This blend of a dozen herbs and spices — including bay leaf, red pepper, celery salt, mustard, and ginger – has developed a loyal following. OLD BAY's bright yellow and blue tin has become an icon, and its distinct flavor is the ultimate in seasoning seafood and more. For more information and recipes, visit www.old-bay.com, or call 1-800-MEAL-TIP (1-800-632-5847).
Old Bay is a registered trademark of McCormick & Company, Hunt Valley, MD 21031