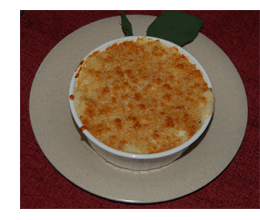 6 ounces dried penne pasta
2 tbsp butter
1/4 cup bread crumbs
1 tbsp Parmesan cheese
2 tbsp white flour
2 tsp Old Bay Seasoning
1 1/4 cups milk
1 1/2 cups (about 6 ounces) shredded Monterey Jack Cheese
1/2 cup (about 2 ounces) crab meat
Preheat oven to 500° F. Cook the penne pasta according to package directions. Meanwhile, melt 1 tbsp of the butter in a small non-stick sauce pan, add bread crumbs and stir to wet the crumbs with the butter. Add the Parmesan cheese, stir in well, and set aside. Melt the remaining 1 tbsp butter in a medium non-stick sauce pan. Add flour to make a roux, and cook, stirring until flour is bubbly. Gradually add milk, stirring a little add a time, and blend in with the flour/butter roux. Keep heating and continuously stirring the milk mixture for 4 – 5 minutes over medium heat until milk begins to thicken. Add the Monterey Jack Cheese and Old Bay Seasoning and mix well. Gently fold in the crab meat. Fill two ramekins about 2/3 full of the cooked penne pasta, pour in enough of the cheese mixture to reach top of pasta, then stir to mix cheese well around the pasta. Pour more cheese sauce in to fill to top of ramekin. Repeat with second ramekin. Sprinkle tops of each ramekin with the Parmesan bread crumb mixture. Place the ramekins on a flat baking sheet and bake at 500° F about 6 to 9 minutes until cheese is bubbly and tops are lightly browned. Remove from oven, and let cool about 5 minutes before serving.